Pursue a Data Science Graduate Certificate
ONLINE PROGRAM
Complex data analysis is revolutionizing how we understand the world around us, and many companies are searching for talented professionals who can bring these skills to the workplace. A Graduate Certificate in Data Science can give you the credentials you need to upgrade your skillset or explore a new field. And you don't have to have a background in computer science or statistics to get started.
Our 15-credit Graduate Certificate in Data Science is a fully online program designed for the working adult with a college or graduate degree. 
Upon completion of our program, you will receive a notification on your transcript and a certificate you can display to showcase your skills.

Request Information
Program Overview
• 5 Online Courses
• 15 Credits
• 8-Week Terms
• Cost: $6,375
• Prerequisites: Intro to Computer Science* & Basic Statistics* OR equivalents
*Available online during our Summer Session
Select the start date that fits your schedule

Start dates:
• Spring 2020: Feb. 24, 2020
• Fall 2020: August 17, 2020
• Spring 2021:  January 11, 2021
 
Continuing courses run in five eight-week sessions year-round on the following schedule:
 
• Spring 2020-Block 2: February 24, 2020
• Summer 2020-Block 1: April 20, 2020
• Summer 2020-Block 2: June 15, 2020
 
Summer Hiatus**
 
• Fall 2020-Block 1: August 12, 2020
• Fall 2020-Block 2: October 12, 2020
• Spring 2021-Block 1: January 6, 2021
• Spring 2021-Block 2: March 15, 2021
• Summer 2021: June 7, 2021
 
**During Summer 2020, we will be transitioning from one calendar to another.  There will be a short gap between August 7 and August 17 when the calendar resets.
Convenient
Designed for working adults, all courses are fully online. You can start the program at different points throughout the year.
Affordable
Truman's tuition rates are among the most competitive in the Midwest — and for this program, you pay the same flat rate regardless of where you live.
Hands-On
Learn by working with authentic data sets and projects relevant to your field.
Earn Your Data Science Certificate in Less Than a Year
Depending on the point in the year you start, you can be done in as little as 40-45 weeks. Our 15-credit hour program includes five required courses, including a capstone experience. Courses are taught in intensive, eight-week terms. You take one course at a time and move quickly from topic to topic.
Adaptive Learning
The curriculum is designed to help you demonstrate mastery of concepts through adaptive learning technology. You'll develop projects that are relevant to your current job or the one you aspire to. What's more, you'll finish your program with a capstone focused on applying your data science skills to your field of work.
Digital Badges
Our courses incorporate a system of digital badges that highlight the specific skills you're acquiring as you progress through the program. These badges give you tangible indicators of success within each course that can be useful when interacting with a current or potential employer. Digital badges can be displayed on LinkedIn as well as your online portfolio.
Academic Success Mentor
Our faculty, along with an Academic Success Mentor specifically assigned to support you, will keep you on track.
Why pursue a graduate certificate?
Many jobs require specialized coursework or training, but not every job requires the cost and time of an advanced degree. Graduate certificates – particularly online certificates – are perfectly designed for the working adult with a college or graduate degree who wants to take specific courses that will allow you to take your career to the next level or to pursue a new role in the workplace.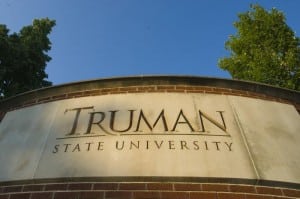 Contact Information
Have questions about our data science program? Contact us.
Institute for Academic Outreach
Truman State University
100 E. Normal Ave.
McClain Hall 303
Kirksville, Missouri 63501
Website: institute.truman.edu
Phone: 660-785-5384
Email: institute@truman.edu